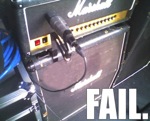 - Wed Nov 15, 2017 9:36 am
#764284
Genuine 1964 Martin D18 in excellent, unmolested condition. Serial number is 197191. I bought this guitar from Jensons Music Store in Santa Barbara, CA (they specialise in old Martins). I chose it as the best of three they had in at the time (a '68, a '54 and this). I think everything is original except the end pin and the bridge inset (not sure about the string pins, I'm not an expert). It is a very light guitar, they built them far lighter back then, which means more resonance. And of course it predates the 70s slump in quality of timbers and manufacture that seemed to hit the whole acoustic industry.
Solid spruce top, solid mahogany back and sides, mahogany neck, original tuners and pick guard, tort binding, original light nitro finish, Brazillian rosewood fingerboard and bridge. Has a modern Lite-Flite case from Hiscox to keep it safe. It has not had any modification or neck reset as far as I can see, and it plays very well. Frets have been dressed a little, fingerboard shows just minor wear in cowboy chord positions and some wear to the top from strumming rather too enthusiastically. Of course, it sounds exactly how a vintage D18 should. Really throaty, plenty of bass, great clarity and it is loud. It is kept in a climate-controlled environment (around 50% humidity). I'm told I'm only the second owner, but have no way to prove that.
I'll be sorry to see this one go...
I might do a part trade, for the right guitar. Otherwise, I'll take offers. I'm informed it is worth about $6k by folks in the trade. I appreciate that anyone interested will want to try it and I'm happy to accommodate that. Also appreciate that I'm unlikely to sell it here as most of us just do electric guitars

PM me if you want more details or photos... Apologies for the crap photographs...most of what you might see as imperfections are just reflections. The finish is still quite shiny despite being over 50 years old.