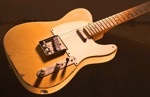 BY
Reg18
- Fri Jun 29, 2018 1:16 pm
- Fri Jun 29, 2018 1:16 pm
#791614
After doing some research apparently this modded VP
Has had some sort of wax potting (according to a YouTube demo I watched) which begs the question.
Is there some very simple solution to the infamous string snapping VPJR? Like coating it in some flexible super glue or something?
Anyone experimented with coatings for strings to make them more durable?
Would wax potting a string actually make it less prone to snapping?
http://www.thru-tone.com/pedals/pm1